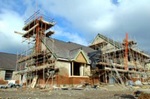 WAGRA funds provide temporary shelters for victims who are homeless along with clothing, safe drinking water and blankets for those in cold climates. Some funds are provided to repair damaged buildings, and food is a vital part of the WAGRA relief activities.
Countries experiencing floods need immediate funds to provide temporary shelters, safe drinking water, food, clothing, and often blankets. Medical assistance is available for those who are sick or injured.
Earthquake victims also need temporary shelter, safe drinking water, food, clothing, medical assistance, and often blankets.
Volcanic eruptions often leave people homeless and with just the clothes they are wearing. They need the basic necessities of life to survive these traumatic devastations.
Civil wars take their toll on thousands of people. Many Christians have been targeted and they had to flee for their lives with just the items they could carry. They often flee to a neighboring country for safety.
A number of countries around the world experience famines. The lack of rain causes crop failures. Often sheep, goats, and cattle die from lack of food and water. In some countries grasshoppers have destroyed entire fields of vegetation within a short time.
Each need is different but the generous contributions of caring people around the world have provided emergency funds for many countries since WAGRA began in 1994.